I am no computer expert, so I was curious about his new review product we got to try out.
Let's Make a Webpage
from Motherboard Books is a 60-page PDF e-book download with a step-by-step tutorial to teach you how to set create your own webpage. It was created for kids ages 8 and up. It sells for $19.95.

This book was written by Phyllis Wheeler, nicknamed "The Computer Lady".  She is a mechanical engineer and veteran homeschooler who has helped many kids develop a strong knowledge of computers. She couldn't find a curriculum for homeschoolers that taught these essential skills, so she created them herself.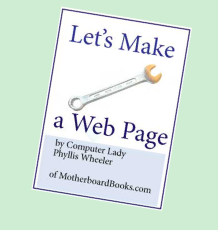 Table of Contents:
Introduction for Parents
Lesson 1: An Interview
Lesson 2: Download and Set Up the Program
Lesson 3: Add Text
Lesson 4: Make a Table
Lesson 5: Add Photo
Lesson 6: From the Internet, Add Animations
Lesson 7: Browser Check, Backgrounds, Photos
Lesson 8: Sound
Lesson 9: Links
Lesson 10: Post Your Work
Appendix: How to Upload to the Internet
To use this program, you have to download a free trial version of a software called Coffee Cup Visual Site Designer. You only get the software on trial for 30 days.  It is compatible with Windows computers, but not Macs. You can use other programs, this is just the one she recommends and give instructions for.  We had a bit of trouble with the software, but when it was working right, this was easy and fun to use. It is unfortunate that you have to purchase software to continue using this program. We would love to use it more and with other kids down the road.
The program is for kids 8 and up, but if they are younger than 10 they will likely need lots of supervision. I did it with my 8-year old. He needed lots of guidance, but could do much of it on his own. You don't need any previous experience to be able to do this. I have never made a webpage, but was easily able to figure this out.  Her instructions are very clear and easy to follow. 
My son and I had fun putting this all together and choosing the elements to make his unique webpage. The book really encourages you to be creative and do things your own way.  She recommends interviewing someone and doing the web page about that person. He chose to ask me questions. It was a great things for him to think through what to ask and add into the page. It is a wonderful introductory program for kids interested in computers!