Salem Ridge Press is a publishing company created by a homeschooling family. They are working on  bringing back quality children's books of the 1800's and early 1900's for this generation. Their goal is  to republish wholesome "living books" for the whole family. They seek out books that have high moral values and teach character.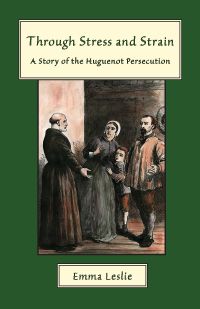 Story Synopsis:
This story takes place in the time period of 1666-1685 A.D. in France during the reign on Louis XIV. The story is based on the persecution of the Hugenots who refuse to join the King's religion (

Catholicism

). It is a historical fiction based on the Marot family. Their sons are being taken from them and forced into Catholic schools to learn the king's religion. The Hugenots are losing their right to worship freely. Their schools and churches are being torn down and they are forbidden to gather and worship together. This story tells of the two Marot sons and their journey as they are pulled away from their family and their religion.
About the Author:
Emma Leslie
(1837-1909), was actually named Emma Dixon. She was a Victorian children's author who wrote over 100 books. She brought a strong Christian emphasis into her writing and many of her books were originally published by the Religious Tract Society.
My Thoughts on the Book:
I loved this book and was fascinated by the story. It was something I was not very familiar with. As I read it to my children I was moved by the hardship that this family suffered. I was touched by their continued strength and faith "through stress and strain". I wondered at myself and how I would react in similar situations. I compared it to my faith and the history of persecution that surrounds it and couldn't help but compare it. I love the message of courage and continued faith through trials. While I loved it, it was a bit challenging for my kids and I ended up finishing it on my own as they lost interest. I think it is better suited for kids a little older. But, when I told them that I finished it on my own, they got a little sad & really wanted to know the end of the story…. so I guess they were enjoying it more than I realized. There are some wonderful illustrations throughout the book that my kids really looked forward to.
I am thrilled to have discovered this publishing company. I love finding high-quality books that teach morals and character. I also really love books that teach as well as being an enjoyable story. I am constantly seeking out "living books" to read to my family. This one taught us a lot as we read it. It gave us so much to discuss along the way, too. I REALLY want to get more of their books now. 
Another thing I really liked about this book was how they defined difficult words throughout the text. At the bottom of each page they listed the meaning of words that we don't commonly use now in our language. They also footnote scripture as it is used in the book. 
Just One Downfall for Me:
If you are a member of the Catholic faith, this book is not for you. It speaks regularly of how terrible the Catholic religion is. Although I understand their anger at being forced to join this church during this time period, I do think it may somewhat offend those who now practice this religion. 
The Schoolhouse Review Crew reviewed 12 different Salem Ridge Press books. Click below to see reviews on some of the different books.