This post may contain affiliate links.

Music is an important part of my life. I grew up learning, singing and playing music. I have always loved it. I am trying hard to teach this love of music to my own children.  I have found a new love in Adventus. I am not just saying that because I got to review it.  It is the pure and honest truth. We L.O.V.E. it.
About Adventus: 
Adventus is a music company that has created innovative piano software for teaching. I have been using the MusIQ Homeschool piano software for the past month and a half with my kids. It is for kids ages 4-18.  They have 7 years of teaching and lesson plans with more than 20 levels from beginner to advanced learners.  You need a MIDI keyboard to use the software (one that hooks into the computer with a USB port). Most new keyboards have that capability these days. There are two different subscriber options- a monthly subscription of $10.95, or purchasing the software outright. 
Software Prices:
Volume 1 $69.95 (25 lessons)
Volume 2 $69.95 (35 lessons)
Volume 3 $69.95 (35 lessons)
Purchase a 3 volume set $179.85 (save $30)
Adventus also offers a FREE 7 day trial!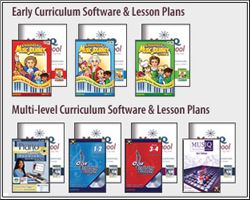 We began with the first level of Children's Music Journey. My kids do not have any piano playing experience- besides just playing around with it. In the first level, they have already been learning how to play some basic songs with two hands! They taught my kids how to do rhythms, learn the music notes on the staff, compose their own songs, and more. It is all done in a game-like setting. They are playing with the notes on the screen.  
The computer program teaches them by using actual composers in history like Beethoven, Bach, Joplin, Mendelssohn and more. The begin the lesson by playing a piece of classical music from the composer that is teaching that lesson. They are animated and interactive. The kids learn pieces of music from various composers as they learn music theory and how to play the piano. There are 25 different lessons in the first level. As they complete lessons, they open new activities and games that reinforce the things learned in the lessons. There is a music library that teaches them 50 different simple songs to play. There is a practice session with "Miss Melody" that also helps them practice what they have learned. You can set up a different account for each child allowing them to learn at their own pace.  
Things They Are Learning in Level 1:
High and low notes
Middle C
Rhythm patterns
Descending / ascending notes
Holding Notes
5 Composers
50 Songs
Finger Numbers
Musical Alphabet
Keyboard Letter Names
Half Notes, Whole Notes
Composing and Improvising
Along with the software, there is also a file with printable lesson plans for parents and teachers that include activity sheets, objectives, quizzes, and many helpful tips.  My kids loved coloring pictures of the different composers and doing the activities related to what they just learned on the computer. 
Our Experience With It: 
I can barely keep my kids away from their music lessons!  They have been fighting over who will go first for over a month now!  They love, love, love this program.  I LOVE how much they have learned.  I have always wanted my kids to have piano lessons, but it has never been in the budget. This program is WAY less than the cost of  lessons for one child. When our trial subscription runs out, I will keep it up to continue teaching my kids piano.  I love that it not only teaches piano, but also music history, theory, and composition. It incorporates many different parts of music into one. I am just thrilled!
We received a full subscription to all levels of their software, but have only gotten most of the way through the first level.  I am planning on starting the Piano Suite (ages 10+) for my own piano practice soon.  I am excited to have access to this!  I have been wanting to take piano lessons for a LONG time & now I can in the comfort of my own home. 
This program is FANTASTIC!  I can hardly begin to say all that I love about it.  If you are thinking of doing piano lessons, this is a great option for your kids. Plus- it will save you so much money in the long run. 
Want to see a little more? 
Their blog has tons of free printable resources for parents and teachers that you can check out. Many of the coloring and activity sheets included in the lesson plans are there! They also have a 7-Day free trial available. I love when a company does this so you can get a feel for it before committing.