This post may contain affiliate links.

The product I am reviewing for you today has been such a wonderful addition to our lives. 
Who Is My Neighbor? And Why Does He Need Me?
by John Hay and David Webb, is the third volume in a series of religious curriculum books called "What We Believe, biblical worldview books", by
Apologia
.  I am always looking for ways to enhance our religious studies and devotionals, so I was really excited when this item came up for review.  I am so impressed with the quality and content of these books.  I shouldn't be surprised as I
LOVE
our other Apologia products.   
Who Is My Neighbor?
 is a Christian program based on the teachings of Christ in the New Testament.
Luke 10: 25-29 reads:
25  And, behold, a certain lawyer stood up, and tempted him, saying, Master, what shall I do to inherit eternal life?
27 And he answering said, Thou shalt love the Lord thy God with all thy heart, and with all thy soul, and with all thy strength, and with all thy mind; and thy neighbour as thyself.
The Savior then tells the parable of the Good Samaritan- one of my all time favorites.  That is the premise of this amazing curriculum.  Can you get any better than that?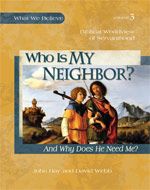 Here is the wonderful description from the Apologia Site:
Our children are bombarded on a daily basis with competing messages. Every song, movie, book, TV show, blog, and game is full of ideas—ideas about truth, morality, beauty, identity, faith, and more. Not all of these ideas are true. Some are wrong, some are deceptive, and some are outright destructive. It is more important than ever that young children be equipped to discern among competing ideas and stand in the truth. This is why Apologia has teamed with Summit Ministries to bring you the "What We Believe" Series. The "What We Believe" Series is an outstanding way to teach your child the essential beliefs of the Christian faith, but it's so much more! With this student-directed, Bible-based curriculum, your children will learn how to use Scripture as a lens through which to view the world around them—to see everything the way God sees it—and know the truth.
The third book in the award-winning What We Believe series helps children understand what it means to be salt and light to the world (Matthew 5:13-14). This study will encourage kids to develop a Christlike servant attitude based on these biblical truths: God created me to be a blessing to the world; God chooses to work through me; I can make a difference at home, in my community, and at church; the church is God's family; the church is one body with many gifts; and I am an important member of Jesus' body.The book has eight lessons:
Does anyone really need me?

How can I make a difference?

Who is my neighbor?

Why did God make families?
What can I do for my country?
Why can't we all just get along?
Who is God's family?
Why does the church need me?
Each lesson in the text is divided up with different parts including stories, things you can do, prayers, etc.  They are so wonderful!  The book is nearly 300 pages long.  We are taking it quite slow with just a page or two each day, so this will definitely last us a whole school year. My kids and I have truly enjoyed what we have read so far.  I love books that encourage discussion, thought and questions and this book has done just that for our family.  I also really love the theme of this book- loving and serving others, being more like Christ. It is something I am always working on in myself- and want my children to learn as well.
Along with the text we also received a spiral bound notebooking journal (240 pages) – which is fabulous!  This gives weekly lesson plans, vocabulary terms, discussion questions, scripture memorization, activities, extensions- books to read and songs to listen to…We haven't used it to write in, since my children are young, but I pull it out to encourage discussion and use their ideas to practice what we are learning.  It is wonderful and I will definitely save it for when my kids are a little older and are better writers.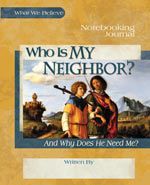 We also got a darling coloring book (64 pages) that has pictures to go along with the stories in the book.  As I read to my kids, they would color the corresponding pictures.  They love this so much and it helps them to focus and sit still as we read together.  It also gives them more of a visual of the topics being discussed.  It is great if you have several ages of children- some can color, and some can write in the notebooking journal. They really make it work for the whole family!
I have been so impressed with this program, that I will definitely consider purchasing more in the series to continue on in later years.  The other titles in the the series are: 1st- Who Is God? 2nd- Who Am I? and 4th- What on Earth Can I Do? (The 4th is not yet available, it says it will be released this year sometime).
Pricing: The text book is $39, the Notebooking Journals are $24 and the Coloring books are $8.
I would pay this for the other books in the series- I definitely think it is worth this price.  Apologia writes such high quality material!!
I received this product for free as a member of the Schoolhouse Review Team in exchange for an honest review.  All opinions are my own and I was compensated in no other way.
SaveSave
SaveSave
SaveSave