This post may contain affiliate links.
Today I want to talk about schooling in the kitchen. I have some ideas for focus on Cross-Curricular Kitchen Lessons.  The kitchen is one of the best places for hands-on home learning.  As a former home-economics teacher I love bringing my kids into the kitchen with me.  Cooking is an essential life skill, but there is so much more to learn than just the skill of cooking. In the kitchen you can learn health and nutrition, science, math, safety, and sanitation, history & geography, even language arts!  Start teaching you kids kitchen skills early by letting them help out in the kitchen while they are still young.
Cooking With Kids:
Children learn by using all of their senses and cooking definitely brings in all of the senses- touching, tasting, feeling, smelling, and listening. Children enjoy eating foods they help prepare. There are so many simple recipes that older kids can make on their own.  Just make sure they wash their hands!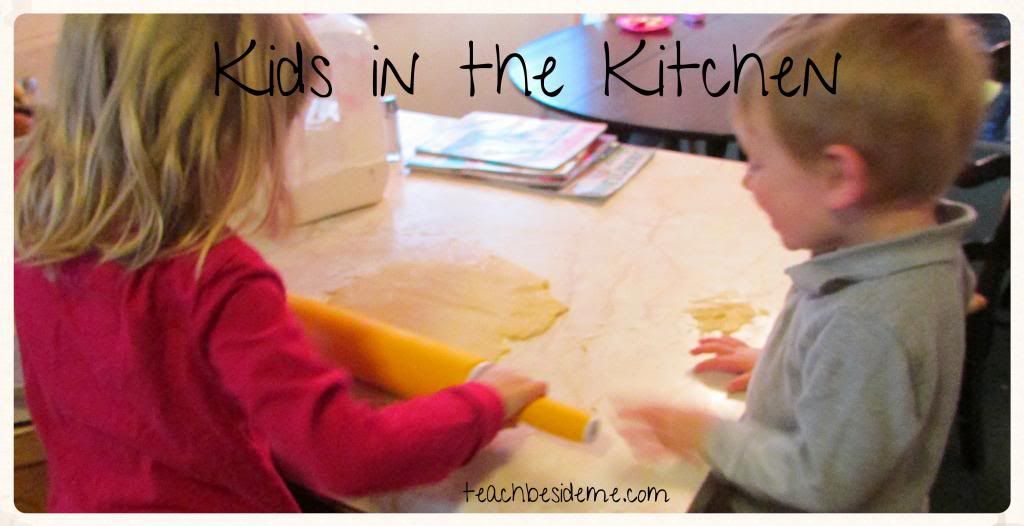 Here are some ways to let them be involved:
Scrubbing and peeling vegetables and fruits
Wiping tables and counters
Tearing lettuce
Pouring ingredients into a batter
Mixing batter and other foods
Spreading peanut butter on bread
Kneading bread dough
Juicing oranges, lemons, and limes
Mashing soft fruits and vegetables
Measuring dry and liquid ingredients
Rolling out dough
Help planning meals
Gathering ingredients for recipes
Nutrition Lessons in the Kitchen:
Kids can learn so much about health and nutrition by helping in the kitchen.  You can teach them about eating a balanced meal.  You can model good health and teach them by example.  I created a whole kids nutrition unit a few months back.  You can see it in this post.
Math Kitchen Lessons: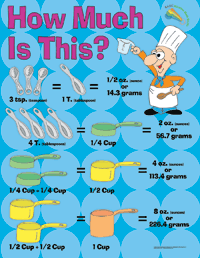 Math is a huge part of cooking.  You have to know a little about fractions to be able to read and carry out a recipe.  I remember when I was teaching foods classes, the kids who did not have a firm grasp on fractions really struggled with recipe reading.  I have started teaching my kids fractions at a young age so they can understand the concept. Also, be sure to teach them about measuring cups and spoons so they understand what they are.
More ideas for math in the kitchen:
Metric measurements & conversions -most liquid measuring cups have the metric measurements on the cups

Doubling or halving a recipe

Basic fractions using measuring cups- let them play around & measure dried beans.

Measuring equivalents (How many tablespoons in a cup, cups in a pint, quart, gallon, etc.)
On the next page see ideas for teaching science, history, geography and language arts in the kitchen!