King Alfred's English- Review
This post may contain affiliate links.
Want to know how our language was developed?  Where we got many of our words?  How different saying were developed?  Then, I have the book for you!!
Did you know?
The English were NOT the British. In fact, they fought each other…a lot. And still today, if you call an English person British, he might very well correct you even though he knows you probably won't understand.
You probably don't pronounce the word "when" like your parents. When you say "when" and "win," do these words sound the same? If you're under 50, they probably do. If you're older, you may still pronounce the sound of the "h" and the words sound slightly different. I still pronounce the "h," do you?
The Brothers Grimm compiled German fairy tales, but they were also famous philologists (and what IS a philologist?)
There's a law for the way languages change that backs up Intelligent Design.
For over 300 years the official language of the English court was…French! Seriously. But the English were always fighting the French. That's true. Find out why.
There's a reason we write "knight" but say "nite," and you won't believe how they used to pronounce it.
It was once punishable by death to translate even portions of the Bible into English! Yikes!
Recent scholarship has shown that at least 80% of the King James Bible is the translation work of just one man. Who was he?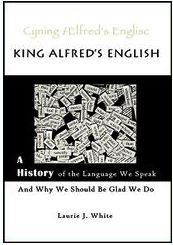 King Alfred's English- A History of the Language We Speak and Why We Should Be Glad We Do, by Laurie J. White, is a book written about the history of our language.  Laurie White is a homeschooling mom and English major.  When her book first came out in 2010, it was named by CBD as one of the top ten picks for homeschoolers. It is recommended for readers ages 12 and up.
King Alfred's English is full of all kinds of interesting facts like the ones above.  I learned so much from reading it!  As I was reading, I kept telling my husband all the things I was learning- it was so interesting to me.  I love the author's conversational style of writing.  Typically a historical book is not a light & easy read, but this one was so easy to curl up and read.  It was a great read.  I highly recommend this for those of you with older kids.  I will be reading it to my kids in a few years- but they are still a little young for it. But, it is also a great read for adults, too!
Something I learned that I really thought was interesting was the fact that the English Oxford Dictionary has about 615,000 words in it while most of the other languages have under 200,000 words in their dictionaries.  This is mostly due to the fact that the English languages has borrowed so many words from other languages.  Plus it continues to grow & develop adding more all the time. Kinda crazy, hu?
If you visit the author's website, The Shorter Word, she has some great teaching resources-  worksheets, tests, recommended movies that relate to the book, and study guides to go along with this book.
This book is available in papeback at a lot of different online stores, but the current lowest price is at Christian Book, for $14.89. You can also get the Kindle version on Amazon, for $5.95.
The author has offered a limited number of discount codes to my readers for doing this review. You can get the book at the wholesale price of 50% off, or $8.47.  If you are interested, I will e-mail the discount code to the first 5 readers who leave me a comment telling me they would like it.  This code will be good through the end of August.

Disclosure: I received this book for free as a member of the Schoolhouse Review Crew in exchange for an honest review. All opinions expressed are my very own.