This post may contain affiliate links.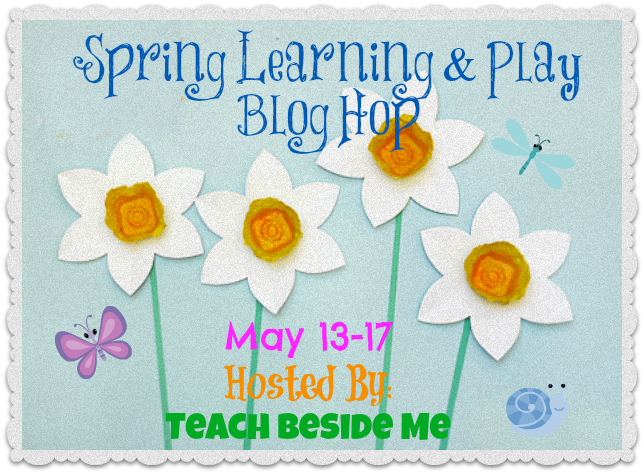 Hey everyone! I am excited this week to share with you the Spring Learning and Play Blog Hop.  Each day we have several bloggers sharing their Spring ideas with you. You can also link up your own spring posts each day.  I also have a homemade Wind Vane craft for you!
Today I have a couple of great posts to share with you from some awesome bloggers! Make sure to stop by and see their full posts.
From Life With Moore Babies:
Pipe Cleaner Bubble Wands
These are SO cute & I know my kids would love this project. Stop by her site to see how to make them.
From Royal Baloo:
Alphabet Hopscotch
This is such a fun idea to help with alphabet learning!
From Nature and Play: Exploring Spring With Flowers From the Garden
And from me: A  homemade wind vane.
We had fun learning how to track which direction the wind is blowing. I actually got this set from the Magic School Bus science kits that we have been getting this year, which are a lot of fun.  But it is so simple to make that  I wanted to share!
Supplies to make it:
a small piece of clay, a straw, cardstock, a wooden skewer and some tape.
You need 2 double headed arrows cut from cardstock labeled E & W, N & S.  Then you will need one more single sided arrow.
Stick the dowel into the clay. Punch holes in the middle of each double headed arrow and slide them both onto the skewer. Slide the straw onto the top. Tape the other arrow to the top of the straw.
Take your wind vane outside and adjust the bottom arrows to point in the correct direction.
(N-S-E-W)  The wind will blow the top arrow and point in the wind is blowing!
You could do this to track the wind direction for a few days & record your results.
Here are the list of participants for the rest of the week.
Tuesday
Wednesday
 Thursday
Friday
If you have any recent Spring related posts, feel free to link them up below!