This post may contain affiliate links.
Have you heard of Time 4 Learning before? It is an online curriculum for grades PreK-High School.  It uses multimedia activities to teach to approved state educational standards. They cover Language Arts, Science, Social Studies and Math. It can be used for homeschool, summer supplementing, or after-school tutoring. It is $19.95/month for PreK-8th grade for each student ($14.95 for additional students) and $30/month for the High School level. There are no contracts and they offer a 14-day money back guarantee. We were lucky to receive a 6-month trial of the program for review!
How it Works:
It is tailored to meet the needs of each student. You can adjust your child's grade level independently for each subject, so if they are excelling in certain subjects they can be moved up a grade level, or down if needed. Kids can log in all on their own ad get to work. Lessons are organized into chapters with activities, printable worksheets, and quizzes. They move at their own pace to guide their own learning. When they log in, they choose which subject they would like to study. If they did not complete a chapter, there is a bright green arrow telling them where to start. When they complete the lesson they get a check mark or a star telling them it is finished. After they have done their allotted amount of learning time, there is a playground with games for the kids to play. 
Parent Planning:
They make lesson planning very easy. In the parent administration section you can actually set a lesson schedule for your child to help guide their learning. You choose the subjects and the beginning and ending dates and it will generate a suggested lesson schedule for your child to each day. You can also view your child's completed lesson records to see what they have completed and how well they did on quizzes. In the parent section you can control the amount of time your kids need to spend on their lessons before they can go to the playground and play games.  I really like this feature!  There is even a parent discussion forum where you can meet other parents near you or just chat with other Time 4 Learning families. The parent forum has supplemental resources, and many tips and ideas.
If you visit their website, you can view lesson plan outlines for all of the subjects for each grade level that are covered. You can also try out various lesson demos to see what it is like.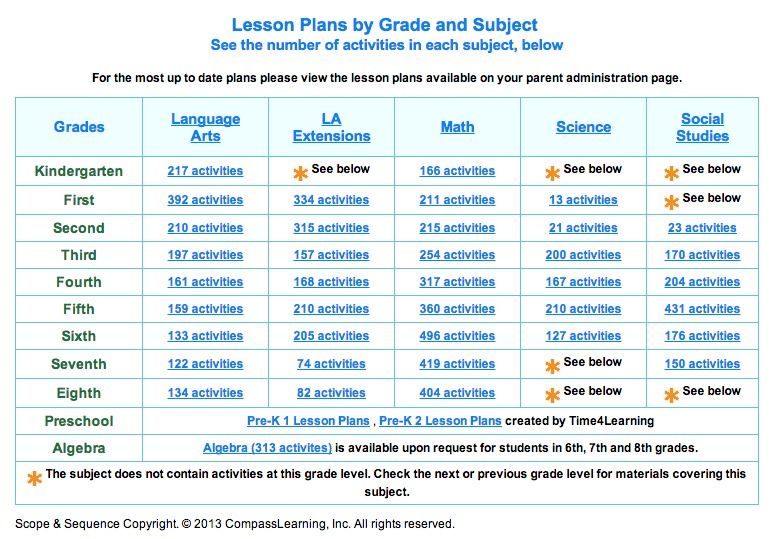 How We Use It:
I have been using the program with my 3rd-grade son. He LOVES Time 4 Learning so much!  He gets very excited to do the lessons each day. You can see the outline of skills and topics covered in the 3rd grade level here.  He loves the fun, interactive lessons. He says it feels more like playing a game than learning, but I can see and hear the things he is learning along the way. His favorite subject on their site is Language Arts. His favorite part of all is the Playground of course. He has fun playing the games in there after his lessons are completed.  I chose to set the time to 30 minutes of lesson time before he can do the playground. This helps me know he is getting work done before playing!
What I Think:
I love seeing my son learn new things in a fun, interactive way. I like that he can do it all independently. While I do not love him being in front of the computer for long amounts of time, I do think their lessons are very good. I don't think it fits our learning for a full curriculum, but is a wonderful supplement.  I am happy that my son enjoys it and wants to do the lessons. I think it is a really impressive online program. They have great customer service and great online support.