This post may contain affiliate links.
This week in our "Why Homeschool?" series, I am happy to introduce you to Renee from Great Peace Academy.    I loved her story and hope you will, too. Thanks, Renee for sharing your thoughts and wisdom with us all!  Be sure to stop by her blog and say hello.
This will be the last post in the "Why Homeschool?" series until January.  The next two Mondays happen to fall on some big holidays!  I am still happy to take any submissions for future posts.  If you are interested in participating, see the details HERE.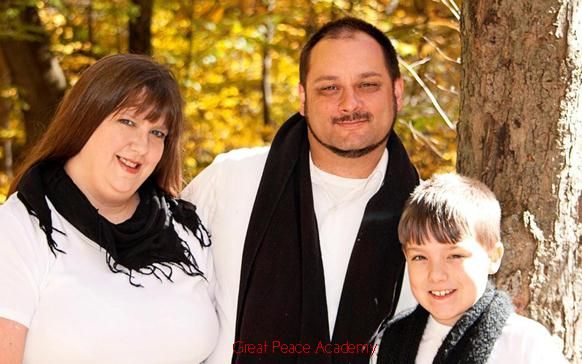 Home School; those are two words that I had never heard until my mid-twenties. Now those two words are almost always put together forming one word which the dictionary editors have yet to filter into the lexicons even though it is a part of modern day vernacular.
The first time I came into contact with a homeschool family was when the congregation I attended at that time, in a mid-size American town, hired a new youth minister and as it turned out they were a homeschool family who previously had lived near a very large city. Being from a very tiny town and having gone to a very small school I couldn't imagine ever having to send my child to the large industrial schools that were beginning to be built at that time even though I didn't yet have a child. I was fascinated.
We talked often, that mother and I, about why she had chosen to homeschool, where she got her materials, how she structured her day, etc. A few years later my husband and I moved to a more urban area. For several years we remained childless and school of any kind was not on our radar. Then, that special day came when we were blessed to become the parents of a beautiful boy.
It wasn't long before we started noticing that he had a unique ability to recite things that he learned and he learned quickly, adapted quickly and always had a hunger to know more and more and more. Naturally as a mom if your child is hungry you feed him. The same is true for a child who has a hunger to learn. So I began feeding his mind. By age 2 he was counting to several hundred and spelling mid-sized words. By three he was reading and writing fluently.
A well-meaning relative who also was a public school teacher recommended Montessori School. She said, for a gifted child it's the only way to go because they allow the child to learn at their own rate. So at age 4 off to our local Montessori I went armed with questions, and they answered them all, so I thankfully enrolled him in their program. The first morning came we got up bright and early and off to the cute little red Montessori school house we went. Within about a month the 30-year experienced teacher took me aside and said, "You're going to need to homeschool your son." She went on to explain that he had reached the capacity of what they provide for not only his age group but up through about age 6. She explained that no public or private school in our area would be able to cater to his unique ability to learn at the rate that he was learning. So we finished out the semester and took him home.
I began researching. I read everything I could get my hands on. I reached out to the few homeschooling families that I knew, including that dear mother from all those years before. I began researching scriptures for what role education plays in the "training up" of a child, Proverbs 4 was especially convicting to me because I saw there such a correlation with what I was learning about the

 

classical approach to education. The more that I read, the more I became convinced that it was the right road for our family.
I wish I could say that "It's easy." I wish I could say, "Everyone should do it." Oh, don't get me wrong, I do believe everyone COULD do it, but only if they are willing to commit, not a wishy-washy maybe I'll try for a few weeks and then give up because it's harder than expected kind of commitment, but rather an

 

'I'm committed to the very end and will go work hard to help my child succeed,' kind of passionate commitment." But I can't say, "You should do it." Why? Because the choice of education is a personal one for each family and each child, therefore each family must make their own choice.
I fully believe in what home education is about. I believe it offers the best education possible for children because it gives them the chance to learn at their own pace, adapted style and with a teacher who loves them beyond measure. I fully believe that it is God's desire for parents to be responsible for not only the spiritual education of their children but to train their child in the ways of the world so that throughout their lives they seek the spiritual before the secular. But, I can't tell others to do it because I do it, or that my choice is the right choice for them. Each family, each parent must decide for themselves. But remember, we each are and will always be accountable for the choices we make.

 
We are now in our fifth year of homeschooling. Some days are harder than others. Some days I selfishly don't want to sit down and write up a lesson plan for the week. Some days I just want to give in and send him off to "experts" to give him what he needs. Then comes one of those special days when my Little Man is excitedly moving through his school day, humming to himself in a happy tone because he gets to diagram a bird feather or solve an algebraic equation and I think to myself, he'd never be able to do that

 

(hum excitedly while working)

 

in public school. So I continue on, leading and guiding with a prayerful desire that the fruit of my labor will be a well-rounded adult who seeks with all of his heart to use his unique talents and abilities to honor and serve the living God.