This post may contain affiliate links.
Today is the start of a brand new series that I will be bringing to you weekly.  I wanted to help people along on their homeschooling journey.  What better way than to share the stories of those making it work?!  I will be featuring different homeschoolers here each week and sharing their stories.  I hope this helps those of you who may be struggling with the decision to homeschool, or who may just need a little more inspiration.  If you would like to contribute to this series, see more info HERE.
Here is the first of the series from Gwen, an amazing homeschooling mom of 8 kids.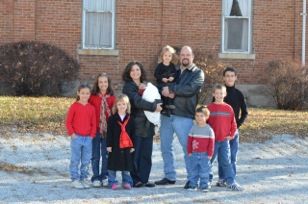 Teaching in the public school system was one of the earliest steps that led to the decision to homeschool our children – several years before we even had become parents. We had also seen some good examples of homeschooling families that helped us decide.
But in the early years, we planned to homeschool just because it seemed like a good idea worth trying.
Despite being told by the principal that I was doing a good job of teaching, I felt constantly frustrated. Within a classroom of elementary students, I felt like it was split into three groups. One group was always way ahead and bored with the instruction and one group was always way behind and discouraged at their lack of progress — so only one-third of the students were truly learning from me!
After a summer of tutoring individual kids and seeing the incredible progress they made through this one-on-one instruction, it finally struck me that the tutorial method – what we now know is actually homeschooling at its best – is really the ideal way to learn.
Sixteen years after I taught in the public schools, my husband and I now have a school of our own. Eight students – who also happen to be my flesh and blood children – fill our classroom. They have learned along with us as we have discovered something else about homeschooling.
It's not just a good idea academically. Little by little, it's become a strong conviction. We believe God has given parents the ultimate responsibility for instructing our children. The late Chris Klicka said, (and I paraphrase), "You can delegate the job of teaching your kids to someone else, but you can't delegate the responsibility for what they learn."
Our oldest son is now fifteen. When we first started homeschooling, I tried to teach him classroom-style – workbooks and all – even though he was just three. The poor child and I worked and worked to grasp the concept that when we counted "one-two-three apples" on the tree on his workbook page that he should know there are THREE apples on the page.
After weeks of frustration, I learned that there are better ways to learn. Working side by side with me in the kitchen or with his dad in the shop – that's where he really started to learn things like counting, sorting, and problem-solving skills. Sitting side by side on the couch listening to great read-aloud books – that's where he developed a love for reading and a love for learning.
So that has truly become our pattern for homeschooling – relaxed real-life learning and lots of excellent books. It's amazing to see how a child's natural curiosity grows when it's not squashed down by hours behind a desk. We are definitely not unschoolers – parents do make the decisions at our house – but we are relaxed in our approach to education and it's been a wonderful blessing at the Toliver home.
Are you wondering if homeschooling is for you? Quite likely it is. You'd be amazed how much you would love learning alongside your kids.
Are you burned out and overdoing it in your homeschool? Relax. Set the strict curriculum aside for awhile, find some great read-alouds and immerse your family in learning. You'll see their curiosity grow as they hear about fascinating characters, rather than just reading dry facts from a textbook. Then they'll want to find out more about that character or that period of history and you'll realize you've created a whole unit of study without even trying.
So enjoy those children that God has blessed you with. Remember that no one knows your child better than you do, and no one loves them more than you – other than their heavenly Father of course.
And He's the one who has gifted you with the skill and the knowledge to train them up for His glory. Even better, He's the one who gives you the strength to accomplish what is most important each and every day.
Gwen Toliver is the homeschooling mother of eight – ages 1-15. She and her husband John serve in missions full-time with Wycliffe Associates. For the past two years, she has been interviewing retired missionaries and collecting their amazing stories. The result of that project is a twenty-one chapter book full of true adventure tales. Seed Sowers: Gospel-Planting Adventures was just released in October. For more information on relaxed homeschooling, using literature with children, ministry, big families, and book writing – regularly mixed with laughter – check out her blogs ToliversToTexas.com and SeedSowersTheBook.com.