This post may contain affiliate links.
I am thrilled to be participating in the School's Out! Top 10 Series by the KBN. Today I am sharing with you some of my favorite ways to keep kids active in the summer. It is so important to keep kids active and moving instead of turning into couch potatoes over the summer.
1.  Summer Sports
Enroll kids in sports camps or lessons.  We usually do swim lessons and/or a sports camp each summer. My kids love being involved in these things.  They learn valuable skills and are keeping active in the process. If you don't want to spend money on camps or lessons, you can still go swimming and play sports together as a family. Play a game of soccer or basketball in you backyard together. Sometimes we like to walk over to the baseball field by our house and just play baseball together with our little family. It can really be a lot of fun!  You could also take your family bowling or miniature golfing. These are fun active sports that the whole family can enjoy together.
2.  Active Toys and Games
Keep lots of classic active toys and games on hand for your kids: jump ropes, balls, bikes, scooters, hula-hoops, trampoline, etc. Kids love to play with these kids of toys and they keep them moving in a fun way. There are also fun board games to keep kids moving. Twister & Elefun are a few I can think of.  I loved
this post
about active games- included is a great list of homemade ones, too!
 3.  Sidewalk Chalk Games
4.  Relay Races or Obstacle Courses
My kids love to build these in the back yard for each other. They pull in their outside toys (slides, mini trampoline, tunnels, board for balance, cones to run around, things to jump over, pull a wagon, ride a bike, ring toss, bean bag toss, etc…) and create a little course to play with.
5.  Classic outdoor games
Do you remember playing all of those fun games outside as a kid?  Do they know how to play all of the old classics?  Here are a few I loved growing up: Kick the can, Mother may I, Simon says, Charades, Capture the flag, Red light-Green light. These games will definitely get them moving!
6.  Get the neighborhood involved
Invite neighbor kids over to play & run together. Have weekly play groups with local friends. Host a neighborhood block party with fun active games.  In a couple of weeks we are having a neighborhood water party. Everyone is bringing a water gun, we are doing a slip & slide, a water balloon fight, & more.
7.  Family Walks and Bike Rides
We like to go on walks or bike rides together in the morning before the heat sets in – or after dinner. We have a nice paved trail that we go to and the kids are safe to run or ride their bikes. Make this a regular activity! It is great for family bonding, too.
8. Interactive Video Games
Video games aren't usually something you would think of for staying active, but there are lots of games now that get kids moving. If you own a video game console, get your kids some of these active games.  We like some of the 
Nickelodeon Wii Fit
& also Just
Dance Disney
, but there are lots of fun ones! This can be good for those especially hot summer days.
9.  Enter a race
There are always fun 1-mile kid races throughout the summer. You can run a 5k right along with them to encourage them.  You can even train together.
10. Get Outside
Explore State or National Parks, local landmarks, etc. Go hiking and climbing together. Take your kids to local parks- visit a few new ones this summer. I am organizing a forest school this summer to get us up in the canyon by our home more often. We are really excited! It starts tomorrow. Don't worry, I'll tell you all about it.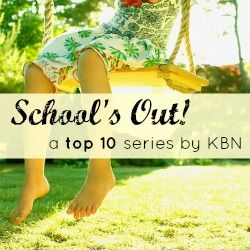 Sunday ~ This Reading Mama | The Educators' Spin on It | Kitchen Counter Chronicle | Rainbows within Reach | Kindergarten & Preschool for Parents & Teachers | Monday ~ Train Up a Child Learn as We Go | Housing a Forest | Royal Baloo | Living Montessori Now | Tuesday ~ Toddler Approved | Play Trains! | 3 Dinosaurs | Wednesday ~ The Outlaw Mom | Teach Beside Me | Hands On as We Grow | Thursday ~ JDaniel 4's Mom | All Done Monkey | Fantastic Fun & Learning | KC Edventures | Playing with Words 365 | Friday ~ Teach Mama | The Usual Mayhem | Nature and Play | True Aim Education | Saturday ~ Creative World of Varya | Craftoart | My Buddies and I