Many of you don't know a lot about me- I am going to share a little bit of history with you today…
I grew up in a home where we cooked all the time.  My Mom has always been into healthy cooking and taught me when I was young to cook.  When I went to college, I expanded on what she taught me. I graduated with a bachelor's degree in Home Economics Education.  When I graduated, I taught Home Ec. classes at a high school and middle school for several years before starting my family.  I have always LOVED teaching so much!  The main class I taught was a Foods class where I taught cooking and nutrition.  I really, really, love cooking, so I also write a recipe blog, Things That Make You Say: "Mmmmm!"
So, with all of that in mind, I have been searching for fun ways to teach these things to my kids.  I have been collecting ideas and resources for a while with the hopes of creating a great nutrition unit for my kids.  I finally put it all together and made it into a document.  I decided that if I am putting it together, it might as well be shared here, too!  I have been working so hard to create this unit and hope you can use it in your teaching.  I am excited to finally have it finished.  It is a 21-page PDF document full of book ideas, learning activities, worksheets, and links to other sites full of more learning ideas that you can use to teach your family.  There is a lot of information in it!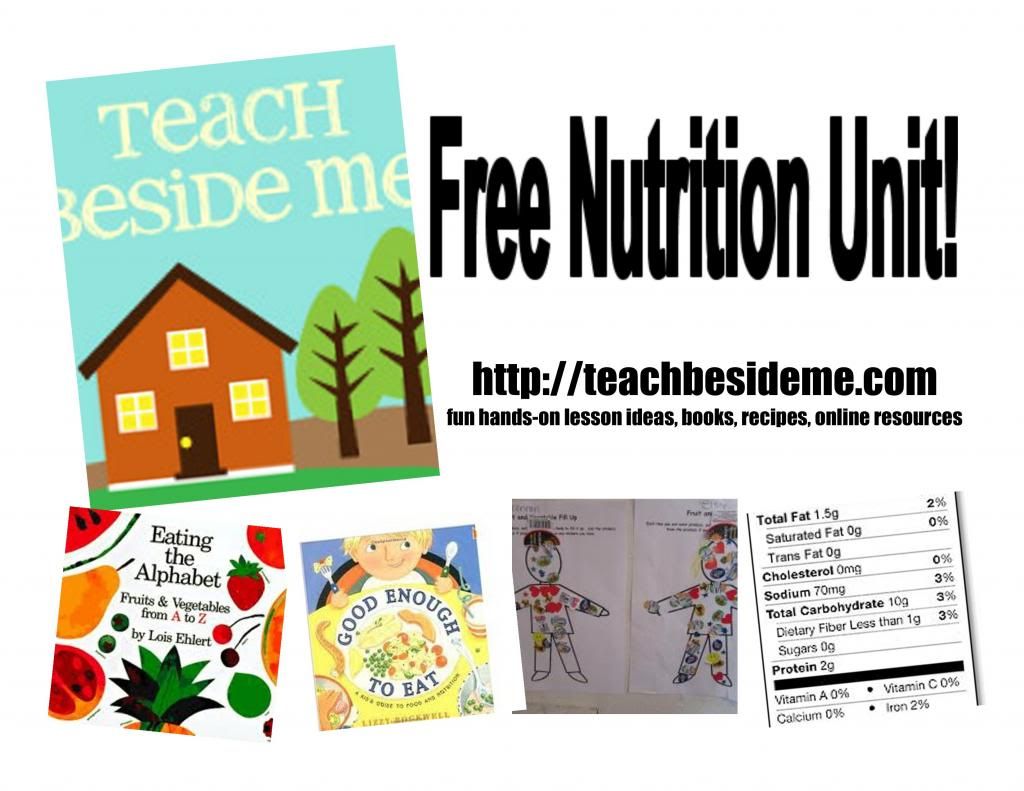 We have not yet done all of the activities, but I plan on doing them as soon as we start school back up.  January always seems to be the time people re-commit to health and nutrition!  After the holidays we feel the need to jump back in. I thought the timing might be just right.  So, I hope that this will motivate your family to do the same. I will be sharing some of the ideas here are we do them.
Here is one that we have been doing this past month.  The printable for this is in the Nutrition Unit.
The Fruit and Veggie Fill-Up:  Print out the little body outline from the nutrition unit (see link above).  As your kids eat fruits and vegetables, they can put a sticker on it.  Lots of produce has stickers on them, we like to use those if they have them.  If not, have a little packet of stickers handy.  The kids get really excited about this and really do try to eat more produce so they can add a sticker to their body.  My kids like to compete with one another and see who fills it up first.
I hope you enjoy this unit!!