This post may contain affiliate links.

A+ TutorSoft, Inc
. sells interactive math curriculum for kids grades 1-6, plus pre-algebra & algebra. It is a full curriculum with a few options: 
Online Homeschool Edition
 or the
CD Software
 (for Windows- but can be modified for Apple ones, too) sold by grade level.  We have had the chance to review the 2nd grade A+ Interactive Math curriculum a little this past week. 
A+ Interactive Math is a multi-sensory program that incorporates Audio, visual and text in their lessons. They have multimedia lessons with visual demonstrations of the problems with fun graphics and animations. The lessons and problems are interactive allowing kids to click on things and move images around on the screen. It includes a full textbook that is accessible online or on a CD, printable worksheets & exams, as well as solutions, and a recommended lesson guide.  They also have printable reference sheets with facts, formulas, & diagrams.
We have only spent a little time with it so far, but I will tell you that anytime we have an online math program, my son is all for it.  When I opened it up to check it out, he immediately came over and started answering the questions and wanting to see more.  I was impressed with the quality of the lessons.  I was also really impressed with the level of learning that were included in the 2nd grade math curriculum.  They teach subjects that are more advanced than other curriculum that I have seen, but it is introduced in a fun and simple way so that the kids want to see more and learn more.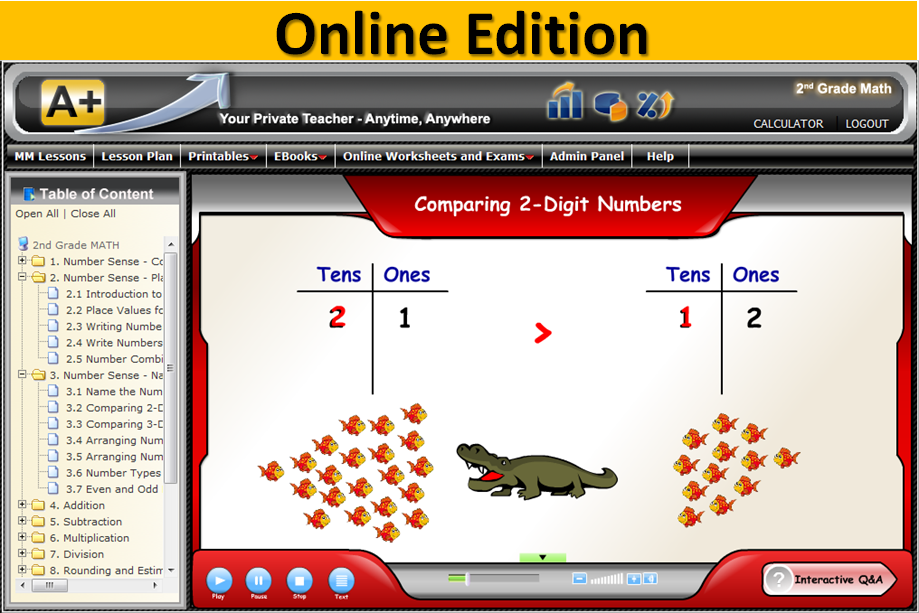 The lesson begins with a presentation teaching the facts followed by a interactive question period.  This is when it gets fun and the kids really have a chance to play with the problems. It tells them right away whether or not they get it right, which is really nice. I like that it tracks your child's progress allowing you to see where they need work. The worksheets are great to give additional work and practice. It seems to me to be a pretty impressive curriculum.  I do prefer a little more hands-on interaction with our curriculum, but that can easily be added in as desired.
The lessons included in the 2nd grade curriculum are:
#'s to 100
Place Value
Addition
Subtraction
Division
Rounding & Estimating
Fractions
Tables, Charts & Graphs
Algebra
Time
Money
Measuring
Prices:
If  you are in the market for math curriculum, they are offering a HUGE 50% off discount code that is good until the end of March.