Goldfish Catch-a-Number Card Game
This post may contain affiliate links.
Goldfish crackers have always been one of my kids' favorite snacks. So it is natural to use them in some fun activities, right?  I have created a fun Go Fish! card game to play using this favorite snack. We are calling it Catch a Number, and it is so fun to play! We stopped by our local Walmart to get some Goldfish ® crackers to play our game. We purchased both the cheddar and the colored ones for this activity.
How to Play Goldfish Catch a Number:
Grab a box of Goldfish crackers at Walmart. Walmart has the 30 oz. cartons on rollback for $6.46 in store only!
You can also purchase by clicking on the image below!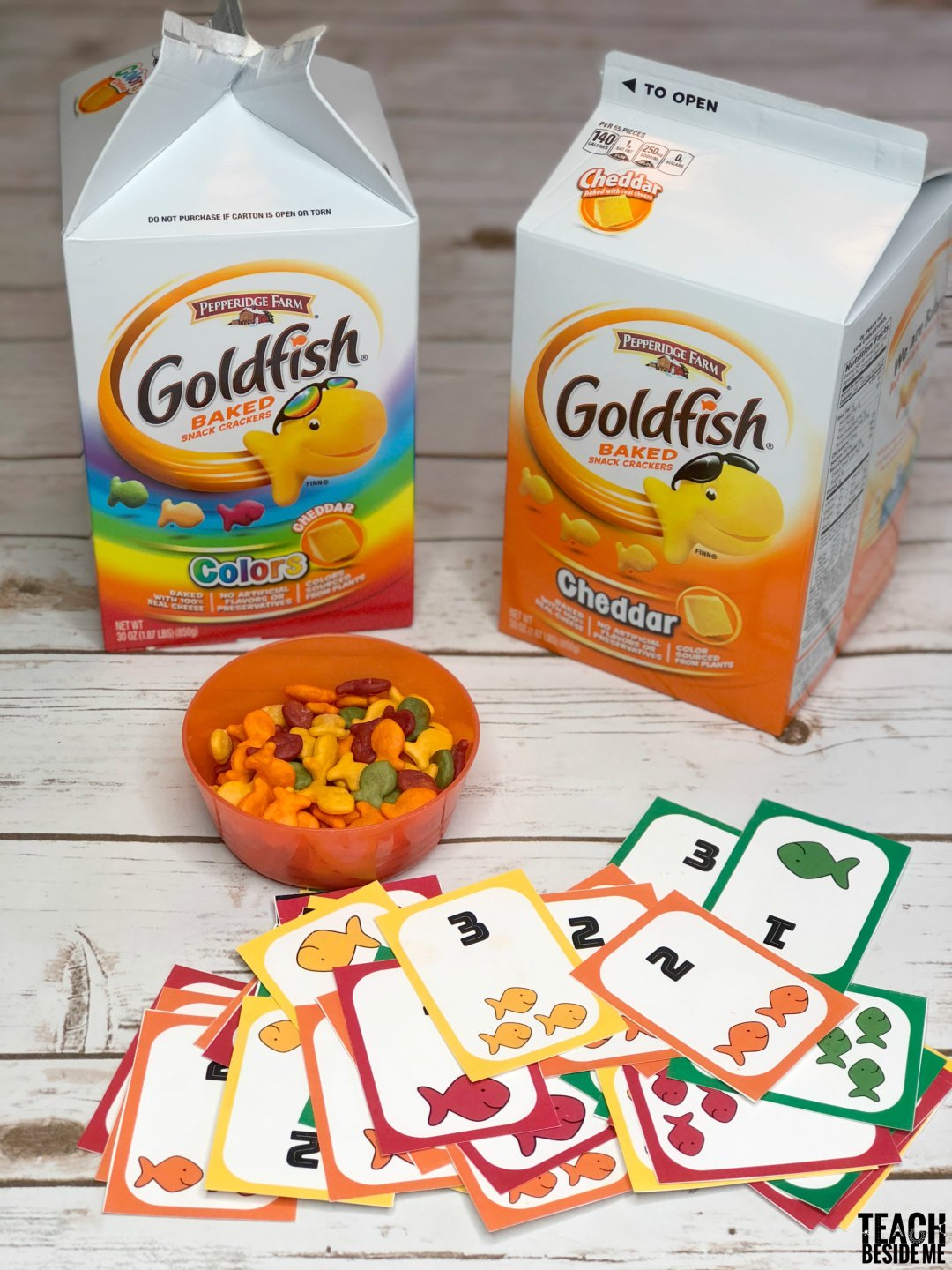 Print out the Goldfish Go Fish card game and cut out the cards. (More details below on how to print it). Now you are ready to play!
Goldfish Go Fish is played in a similar way to the traditional game, but Goldfish crackers are added in to make it much more fun!
Print out the Catch a Number Go Fish!  card game and cut out the cards. (It is available in my shop.)  Now you are ready to play!
Catch a Number is played with Goldfish crackers added in to make it much more fun!
Shuffle your cards.  Each player is dealt 5 cards. The goal is to get matches of four of a kind (or two of a kind for younger kids). (It's played just like the regular Go Fish! game)The cards I created have four colors (red, orange, yellow and green) to match the colored Goldfish crackers. They also have numbers 1-3 for each color and then there are 6 Wild cards included in the deck to make it more interesting. The Wild cards can be used in place of any color or number of card.
Each player gets a small bowl of Goldfish crackers to use along with the game. As they collect matches they also have to match up the correct number and color of crackers to the cards.
You can ask any other player on your turn for a card to match what you have in your hand. When they give it to you, they also give you the matching Goldfish crackers. If the player you ask does not have the card you needed, they say "Catch a Number", and you get to draw a card from the deck.
Lay down any matches on the table along with the matching crackers. At the end of your turn you can draw cards to return your hand to 5 cards if needed.
When cards run out, the player with the most matches is the winner of the game! We had a blast playing this Goldfish cracker Catch a Number game. Because Goldfish crackers always bring a smile to my kids' faces!
These playing cards are available in my shop!   Need more game inspiration? Click here!
$4.50Add to cart