This post may contain affiliate links.
I am thrilled to be able to tell you about my latest review product. I received 
Logic of English
curriculum to review through the Schoolhouse Review Crew. The Logic of English has a series of books and curriculum to teach all levels to the basics of the English language- including reading, writing, spelling and grammar.

We received the
Essentials Curriculum
set. It is recommended for ages 7-adults who struggle with reading. It includes 40 lessons that introduce the basic phonograms and 30 basic spelling rules. Each lesson teaches 15 spelling words, but along with it they learn the tense of the words, how to make it plural, past tense, and possessive. They learn to make compound words, add prefixes and suffixes, and more. So, it is actually teaching them thousands of words to write and spell through the lessons.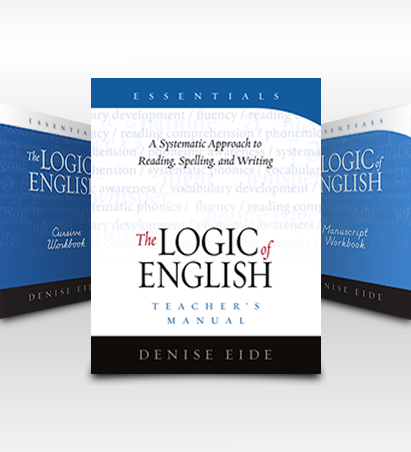 In our curriculum set we received the following items:
There was so much included in the package that I was slightly overwhelmed.  I was a little worried about trying to figure it all out before beginning the lessons. When I opened up the teacher manual and started reading, it was so clear and easy to follow, that my fears were set at ease right away. It gives a scope and sequence of the lessons, sample teaching schedules for varying levels of students, and even a beginning day-by-day outline of how to teach the lessons. The teacher resource section also makes sure that you understand all about phonograms, the basic symbols and sections of each lesson and more.
The lessons each have three parts:
Part 1 begins with phonograms, exploring sounds, and spelling rules.
Part 2 teaches students to spell words through dictation. New readers spell their way into reading as they learn the logic behind each word. A detailed, two-page chart is included to help introduce the 15 words included in each lesson. The chart gives pronunciation, puts the words into a sentence, tells the parts of speech, gives phonics markings, spelling hints, as well as different forms of the words to help develop their vocabulary.
Part 3  gives a variety of ways for students to practice words with different writing exercises. Part 3 is divided into four sections: Grammar, Dictation, Composition, and Vocabulary Development.
Like I mentioned, I used this with my son who is in 3rd grade. I was so impressed right from the beginning at the fullness of the lessons and how easy it was to teach them to him.  We split the lessons over 2 days of study in our home. The lessons were too long for one sitting, so we have made it through 10 lessons so far. I can see incredible progress in his spelling abilities and in what he has learned through this program.
I like all of the information that is covered in these lessons and feel like it is very complete curriculum for all areas of English study. People always ask if there is an all-in-one curriculum, and I finally feel like I have found that in Logic of English. It can also be used for many levels, so you can easily teach this to several ages of kids at once. All you would need was another workbook (they do sell them in PDF format, though!) I have already started recommending this to other homeshool families because I really feel like it is a great solid curriculum.