This post may contain affiliate links.
Homemaker. It has gotten a bad reputation. People tend to think being a homemaker is not really much of a job, or even a very fulfilling role.  I want to tell you why I am PROUD to check the Homemaker box on the surveys. I am not ashamed of this role. I chose it and am completely fulfilled in my role as a homemaker.
Now, today I am not trying to criticize those who are not able to be homemakers or choose not to be for various reasons. I know there are many women who would choose to if they could and if situations were different in their lives. I know you are each doing your best in whatever position you may be in.  I also know that many of you choose to work and love it.  Be happy with whatever choice you have made and make the most of it!
I want, instead to help those of us who are homemakers to remember why it is important.  We have a huge influence in this world and sometimes that gets lost in the craziness that is this world. It is not an easy role and we as women very often forget what an impact we have. It also is often belittled in this day and age. I also want people who criticize this role to understand why it really does matter.
Take the work homemaker and break it apart. We are literally makers of the home. The home is said to be one of the most important places. It is the place where the most learning takes place. It is where our character is built and our habits are formed. The home is (or should be) a place of safety and shelter from he world. We as homemakers choose the environment of our home.  It is time to Elevate the Word Homemaker!
What is a homemaker's role?
Mothers (or Fathers!!)- We begin by giving birth to the beautiful souls we are privileged to rear and care for. We willingly give up our flat bellies and slender hips to bring a life into the world. We hunger for those babies and can't wait for the first moment we get to lay our eyes on them. It is in the home where they first feel of our endless love for them. Here we praise them and gently correct them when they err. We create memories together as a family.
Teachers- From their first foods to their first steps, we are there as they learn and grow and experience each new thing in their lives. We are their very first teachers. We are the ones they come to when they do not know a new word they have heard.  We teach them how to eat, to use the toilet, to wash their hands, to get dressed, to share their toys, and to recognize the letters int heir name.  We teach them how to clean and how to cook their first meal.  We teach them the values and beliefs that matter most to us and instill them into their hearts. We want them to succeed and be a little better than we are. Some of us even choose to continue that teaching through their school years and homeschool them as I am doing.
Nurses- We hug them when they fall down. We inspect their boo boos and cover them with bandaids. We kiss their bumps and bruises. We clean up their throw-up and cool their fevered heads. We stay by their bed side to make sure they are breathing between congested coughs.
Maids- We clean up after them more times than we can count. We wash their clothes. We clean the lumps of toothpaste out of the sink after they brush their teeth. We mop up their spilled milk. We make their beds until they learn (from us) how to do all of these things on their own (without our constant reminders). We do it all willingly because they need our help.
Chefs- We cook and clean up after three meals each day. Along the way we also are teaching them nutrition.
Therapists- Homemakers will listen to they endless problems of their children. They will talk them through their hard decisions and help them make the best choices for their lives. They will teach them problem-solving skills.
Before I finish, I want to share two different quotes from members of my LDS faith. These words are beautiful and I hope they touch those of you who read them.
David O. McKay (a former LDS prophet) said: "The home is the first and most effective place for children to learn the lessons of life: truth, honor, virtue, self-control; the value of education, honest work, and the purpose and privilege of life. Nothing can take the place of home in rearing and teaching children, and no other success can compensate for failure in the home."
One more quote from Bonnie L. Oscarson (A prominent LDS women's leader in the LDS church):  "We should "make our homes" places of order, refuge, holiness, and safety. Our homes should be places where the Spirit of the Lord is felt in rich abundance and where the scriptures and the gospel are studied, taught, and lived. What a difference it would make in the world if all people would see themselves as makers of righteous homes."
I challenge you to ELEVATE the word HOMEMAKER!  Be proud of your role as a mother and maker of the home!
Share with me why you love being a homemaker in the comments. Also, use the hashtag #ElevateHomemaker to share your own thoughts. I asked you guys about being a homemaker in my Facebook page over the weekend. Stop by & join the conversation.
This post is part of a blogger round-up with these fabulous bloggers! Make sure to visit each to read what they are sharing about the divine roles of fathers and mothers.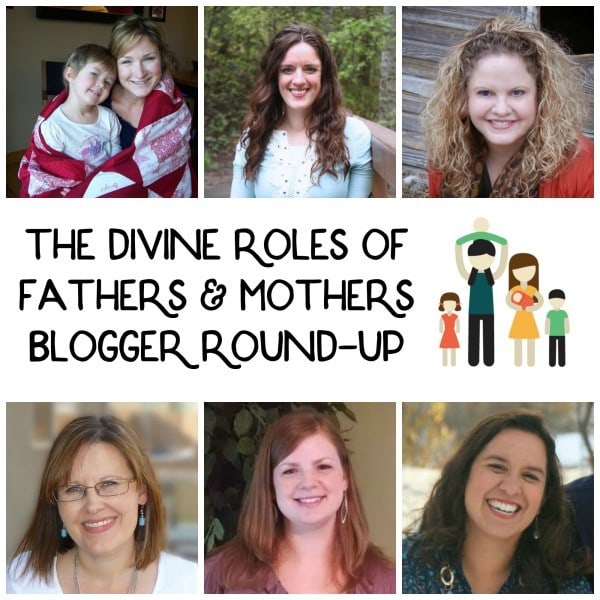 Jocelyn @ We Talk of Christ | Karyn @ Teach Beside Me | Kerry @ My Random Sampler |
Heidi @ One Creative Mommy | Mandy @ A Bliss Complete | Montserrat @ Cranial Hiccups |