This post may contain affiliate links.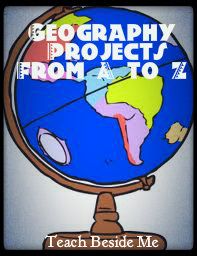 Remember the Geography Projects from A to Z I have been slowly working on?  I FINALLY finished our project for the letter C.  This one took me a lot longer than I planned…  For the letter C we have been working on continents. This is a fun way to help your kids learn their world map and the continents.  Although it took me a long time, it was a lot of fun to put together.
We are using the book Geography from A to Z by Jack Knowlton.  So far we have done atoll & archipelago for A,  beach & bay for B, and our geography nesting cans.
To make it I used a bunch of felt in various colors, a science project board and some tacky glue.  I printed out a big map from this site. You can print it huge on multiple pages and then tape the pages together. There are a bunch of different maps & sizes to choose from, too. I used this as my outline for the different continents.
I cut out all of the continents on paper first, then pinned each one to a different color of felt.
I had to take some liberties & not include every island and peninsula. I have to admit that it was painful for me to cut off certain places because each one is a wonderful part of our world! I eventually had to just get over it, though.
Then… I cut a piece of blue felt to cover the project board. I used tacky glue to attach it to the board. I ended up watering it down a little and painting it on with a foam brush.
I secured the edges with large paperclips until it dried.
I love how it turned out!
I am excited to create some more fun flannel sets to use with our big board now.
See the other Geography from A to Z Projects: