Geography Projects A to Z (Beach/Bay)
This post may contain affiliate links.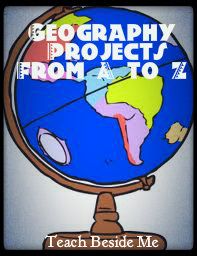 My sister and I are working together with our kids to do projects through the book of
Geography from A to Z
by Jack Knowlton.  We are picking a project for each letter and creating them in a fun hands-on way to help our children remember what these terms mean.
Last month we started out letter A with
Archipelago and Atoll
.  This month we created a Beach and a Bay for letter B. It was another fun and memorable project.
We decided to do boys against girls this time- that way we could do one pink and one blue.  I had some colored sand and my sister had some big cardboard pieces that we used to make our project.
After reading to them about the beach and bay in the book, we also looked at a few real pictures online.  Then I gave the kids some watered down glue to paint a bay on their board.  After they painted it in the shape they wanted, we sprinkled on the sand.
Then we decorated the board with a few details to finish it off. I think they did a great job!
See more of our Geography Projects: